WIRELESS CHARGING SOLUTIONS PROVIDER
EFOP factory has been worked in the wireless charging industry for >5 years with around 100 employees and specialized into offering leading range of wireless chargers for automotive, home, office and commercial interior applications, including cafes, hotels, restaurants, airports, stadiums, education and public places.
As a WPC member and ISO9001 certified factory, EFOP team is always engaged in new wireless charger technology and they are eager to accept new challenges. 30w fast-charging power and 15-30cm transmitter distance projects are under launching. 
The product main features are Over Current protect, Over Voltage protect, Over temperature protect, FOD detect, and Fixed frequency voltage regulation function.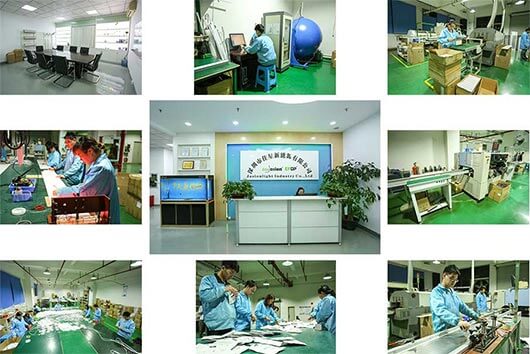 WHERE EFOP SOLUTIONS ARE WIDELY USED?
3-coils Wireless Charging Solution
Single Coil
 Wireless Charging Solution
Single Coil
 Wireless Charging Solution
Central Console Wireless Charging Solution 
Sofa Wireless Charging Solution
Office Desk Wireless Charging Solution
Single Coil
 Wireless Charging Solution
Single Coil
 Wireless Charging Solution
3-Coils
 Wireless Charging Solution
Cafes Wireless Charging Solution
Restaurants Wireless Charging Solution
 Fast Food Wireless Charging Solution
2-Coils
 Wireless Charging Solution
Single Coil
 Wireless Charging Solution
3-Coils
 Wireless Charging Solution
Hotel Wireless Charging Solution
Station Wireless Charging Solution
Bar Counter Wireless Charging Solution
WHAT PRODUCTS & CASES EFOP DID?
1. Input 5V 2A or 9V 1.67A and Output 5V 1A or 9V/1.2A
After EFOP solved the problem about over-temperature and electronic interference, the wireless charging solutions with SUNPLUS and TI brand IC has widely been covered in consumer electronic appliances, such as led table lamp, wall mounted lamp, Speaker, Diffuser, Clock, Power bank, Mouse pad etc. Besides of own launched wireless charging module, EFOP team have customized many wireless charging products for different demands.
Product: Led Wall lamp with Wireless charger
Application: in the Cruise ship
Request: Shock-proof, Moisture-proof, 10w Fast charge
Actually this is an easy project from a wireless charging solution, just with our fast wireless charging module. The difficulties are the installation part, it must be shock-proof and collision-proof enough, and moisture-proof. EFOP team got this project at the beginning, the structural engineers and electronic engineers listed the problems which need to be solved in advance, including how to make the electronic part shock-proof and how to make the materials shock-proof, etc.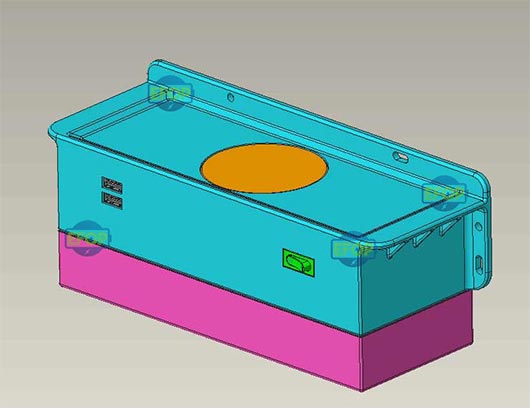 Meanwhile, EFOP wireless charging solutions are popular in a commercial application. To cater to the house owner's favorite, the furniture manufacturer makes our wireless charger into their products, such as table, sofa, cabinet, bed, lamp, and drawer, etc. As a modern office furniture makers, they intend to add wireless charging solutions to the meeting table or office desks. These 2 years, you will see the wireless charging solutions are also appearing in more and more public places, such as restaurants, cafes or other leisure places. Because the smartphone is not just for contacting and communicating, it is playing an important role in our life and work; maybe people could have no water, but they can't have power.
Besides normal public use, EFOP is also bringing the wireless charging solutions into a shopping mall/supermarket/retail stores. To get a better-charging experience, EFOP technology is offering a "wireless charge at no point", it means you could put your smartphone anywhere and your phone will be undercharging, no need to find exact charging point with a big eye.
Product: Wireless charging panel with wireless receiver
Application: in the display counter
Request: Charge at no point and 10w Fast charge
Do you see wireless chargers on the supermarket shelf or shopping mall display shelf? Yes, it is a new application idea. EFOP make it into true, the challenge is to make the wireless charger with" charge at no point" and solve the heat dissipation problem. Can you believe it? It will be perfect that it is no necessary for your smartphone find the exact point every time.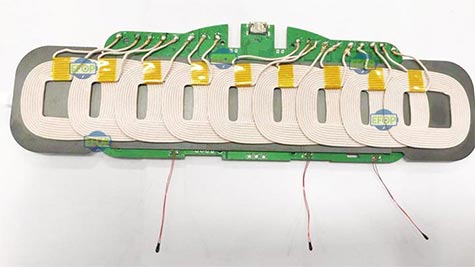 2. Input 12V-15V 1A and Output 5V 1A or 9V/1.2A
The 12V-15V wireless charger is mostly used for high power applications or centralized power supply systems. If several smartphones are undercharging in the same charging table and at the same time, then enlarge the voltage and control the current will be a better way to meet the charging demand; If the output voltage of power supply is 12V or 15V, then the input voltage of wireless charger must be same. EFOP is now bringing the wireless charging solutions into the house car with input 12V-15V version.
Product: Built-in wireless charger
Application: In house car
Request: 12v-15v input and 10w Fast charge
Do you like messy and annoying cables in your limited space car? All car owners will say NO. Here is the solution, EFOP makes OE-FIT wireless charging tray for different vehicles, such as Tesla, Toyota, BMW, Mercedes Benz, AUDI, VOLKSWAGEN, etc. When you are driving, the phone has no power, just put your phone on the wireless charging tray then the phone will be undercharging automatically.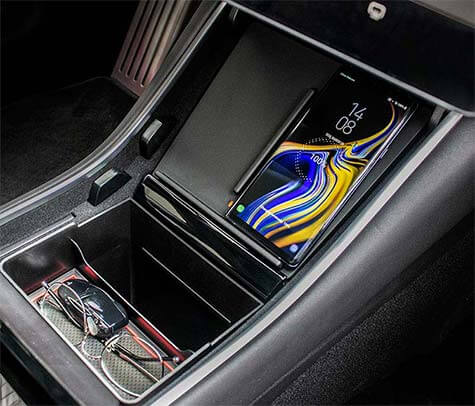 HOW EFOP TEST THE PRODUCTS?
With every product launched, EFOP R&D team will make a completed range of tests from Electronic components, Function test to Actual data check. For wireless charger products, temperature control is important. In special application, the temperature-controlled switch will be added and the wireless charger will stop working when over-temperature is detected(usually 60-70 centigrade).
WHO EFOP COOPERATED WITH?
EFOP wireless charging solutions were used for IKEA, COSTCO and WALMART furniture, etc.
One furniture client assembles the wireless charger into their corner table products, their end-user review:
"Have you stayed at a resort or 5 Star Hotel lately? Well, you are able to charge your phones, pads, or any other chargeable device right on their table. Not from the walls outlet, but their tables and it is a wireless charger. Well, the Brightech Product will allow you to do the same. None of the big stores carry this product, and when I asked when will they order some, their reply, we don't carry them! Time changes, you need too!"


Another Sofa manufacturer client makes the wireless charger into their sofa armrest, their end-user review:
"This is the most comfortable sofa I have ever owned. Very functional, comfortable, and it looks good in my living room. It reclines almost flat – I have fallen asleep more than once. Very easy to get that perfect movie-watching position with the powered headrest. Enough power and USB outlets to charge several devices, especially wireless chargers, wow, it adds value to this sofa absolutely. The tables that ship with the sofa are incredibly handy for supporting my iPad for extended use time, or keeping a snack close but out of the way. Overall the very best sofa purchase I have ever made. And my wife likes it too!"
Share your ideas and application request

EFOP R&D team analyze and launch the solution

EFOP provide the solution drawing and plan

Double communicate the specific solution and prospective effect

Electronic engineers start designing the electric circuit

Structure engineers start to design and prototype housing part if need

The whole set of prototypes are provided for initial check & test

The 2nd communication and amendment on a solution

The 2nd prototypes are provided for initial check & test

EFOP Start formal mold on both electric and housing parts if need (including T0, T1, and T2)

Preproduction 50pcs or 100pcs

Mass production

Shipment
EFOP has a complete product development system with an excellent team, providing OEM/ODM service from Product Architecture, Industrial Product Design, Mechanical Engineering, Electronic Engineering, Embedded System Firmware Design, Electronic/3D Prototyping, Injection Mold Making, Pilot Production Run and Testing Certification, to Mass Manufacturing.
WHAT IS CUSTOMER'S FEEDBACK?
After many cases have done, EFOP got some feedbacks and testimonials from the clients, which were shown here for your reference.

" By far I feel happy to work with EFOP. I give them my ideas, they send us drawing very shortly and really surprise me. After further communication, the exact wireless charging solutions were provided… – Ramen Payer"
"After 15 days I got my prototype with our logo printed, and the wireless charger is working stable as they said. No doubt we win the project finally. Thank you … – Oliver Funk."
EFOP MAKE YOUR IDEA INTO TRUE
Whatever any furniture or any application, if you want it with wireless charging solutions which increase the total value or the business chance, then just send your idea and EFOP will make it true,  as below solution drawing which will be provided soon.
Get Best Wireless Charging Solutions For Your Business